Mrs S.
Uncomfortable, ugly glasses.
Mrs S. had worn glasses since early childhood having been born with a turn in her eye. Her lenses were always thick, heavy and uncomfortable and magnified her eyes making the turn more obvious.
When she came to Jacksons she was suffering from a run of poor health and her uncomfortable ugly eyewear was becoming a cause of distress to her. Unable to get out, and about she was spending more time reading – or at least trying to read as her slipping varifocals made it very difficult. She told us how she had never liked wearing glasses. Having been teased in school and thought that they made he look ugly. She had worn contact lenses, but when she needed help with her reading in her late 40's, the complexity of her prescription made this impossible.
We listened to her frustrations and formulated a plan – high quality  varifocal lenses in 1.7 index to make her every day glasses look lovely and optimise her vision, teamed with a pair of reading glasses for days when she wanted to spend time reading.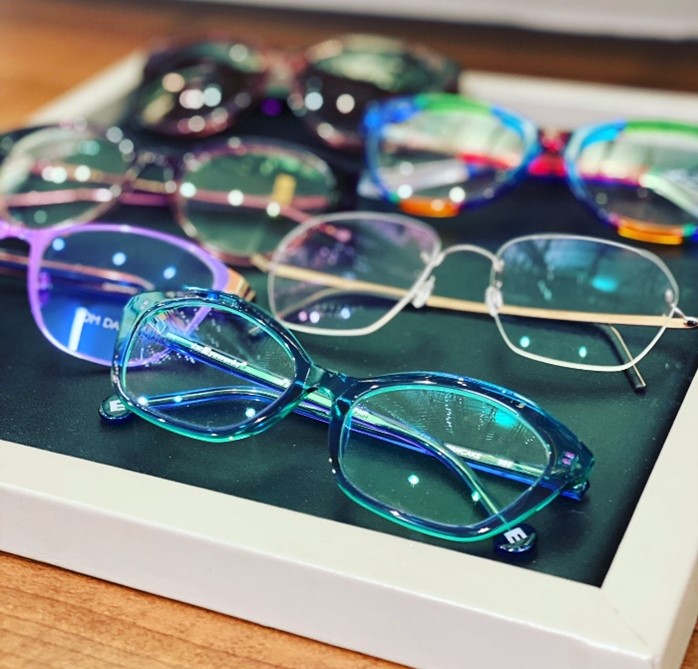 We helped her to select two small, well fitting frames that minimised the lens thickness and sat well on her face. For her everyday glasses she chose a beautiful blue that enhanced her eye colour and worked well with her skin tone. For her readers she went a little bolder with a hand painted multicoloured Ronit Furst.
Mrs S was initially concerned about the price.  She was not expecting to buy two pairs of glasses and the super thin lenses were significantly more expensive than her last pair of varifocals. She was worried that whilst the new glasses seemed the perfect solution, the price might put them out of her reach.
At Jacksons we offer our patients easy payments. Pay a deposit and then spread the remaining payments over 10 months – interest free with no credit checks.
When we spoke with Mrs S. a couple of weeks after collection, she was over the moon having received many compliments on how lovely they looked. Her varifocals were comfortable, and did not slip or mark her nose. Her readers were making her time spent reading much more enjoyable.
Mr G.
The perfect colour
Mr B has been a patient for many years.  He has had many pairs of glasses from us, but always reminds of  us of his rimless Silhouette frames in electric purple and how he loved the colour.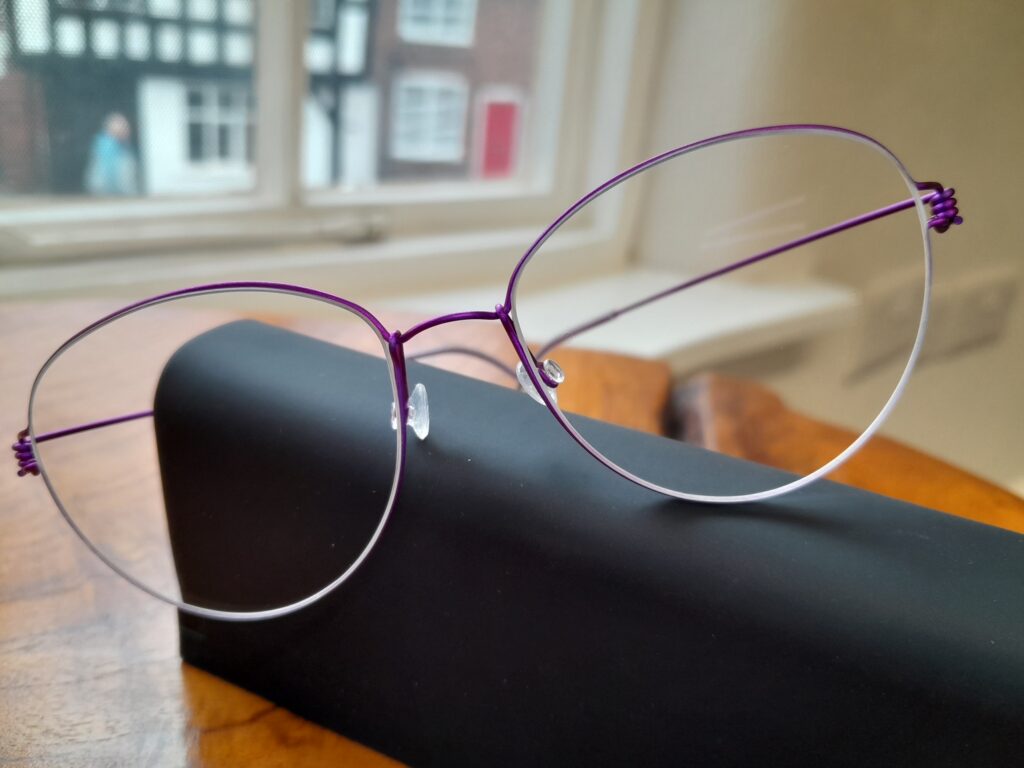 He visited us recently for a routine examination and we found a significant change in his prescription which needed to be addressed.
We discussed his aspirations for his new eyewear – lightweight and without visual compromise. We therefore elected to use a Tokai varifocal which is known for its outstanding optical performance. For the frame we suggested a Lindberg titainium Air Rim – as light as a rimless but with more inherent strength as the frame encapsulates the lens. And as for colour – see what we found!
Mrs B.
Who wants to look anonymous?
Mrs B. came to us with a specific brief – to find her eyewear to make her stand out in a crowd! Mrs B was no shrinking viotet and wanted to find glasses that matched her personality.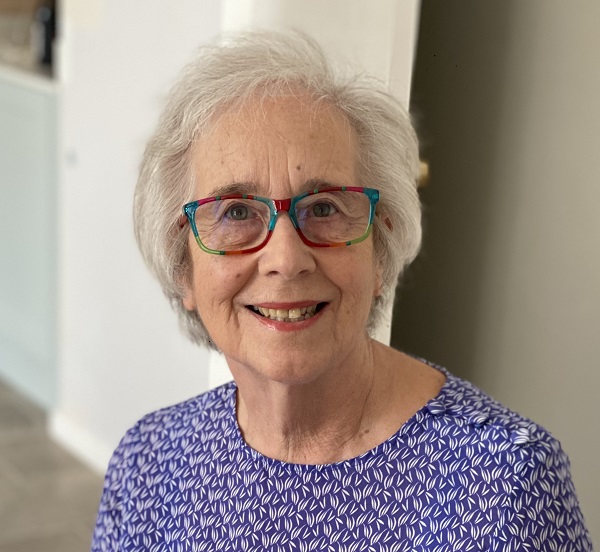 She told how she had visited many opticians and tried on "hundreds" of frames but had found nothing that sung out to her soul.
She had been offered many different colours and styles but nothing that she considered bold enough. She felt she was being offered dull "age appropriate" styles when what she wanted was something that reflected how she felt inside. Age is a number and not a feeling.
Mrs B. was a varifocal wearer with only a moderate prescription which gave us licence to play around with frame size and style. Ultimately she found two pairs and being equally delighted by both, she took one with clear lenses and one with Transitions for use on brighter days. We thought she looked fantastic in both!