Our Team
Optometrist and Practice Director – Helen Corson
I qualified as an Optometrist in 1989 having graduated from Aston University with a First Class Honours Degree – amazing as I was convinced that I would never make it to the end of the course – English Literature A Level was not much help for a science degree! After qualifying, I married and moved to Northumberland before returning to Cheshire. In 2004 started a domiciliary sight testing company and in 2007 I purchased SW & C Jackson Opticians.
I wanted to develop a practice that put customer service to the fore. After years as working as a locum, often for some of the bigger multiples, I wanted to work in a practice where my patients needs were paramount and they were given the time and care needed. Also, as a glasses wearer myself, I understood what it was to struggle to find spectacle frames that fitted – I wanted to make sure that my patients looked good and felt good in their glasses!
Since 2007 the practice has grown and now offers an extensive range of hand selected, handmade frames to offer an outstanding collection of designs from all over the world. Whatever your size and prescription we have the frames for you!
There is no compromise when it comes to the clinical side either. The practice has invested heavily in equipment that has allowed us to become part of several hospital enhanced services such as diabetic screening, cataract pre and post-operative assessment and ocular hypertension/stable glaucoma monitoring.
In addition to my work at Jacksons, I also work as the Optometric Advisor for North Wales. This role involves both the regulatory aspects of clinical practice in Wales and also the development of eyecare within the Public Health framework. I recently completed MSc modules in Legal aspects of Optometry and Optometric Public Health.
My husband Robert and I, (who is also an optometrist though not in my practice!), have three children between us – Felix, Bryony and Ben. Louis the Pug and our three cats also live with us.
Felix sails with the Welsh National Topper Dinghy Squad and is sponsored by SW & C Jackson Opticians – I spend considerable periods of time driving him and his boat round the countryside.
When not at work I enjoy cooking, gardening, walking and escaping the ironing mountain!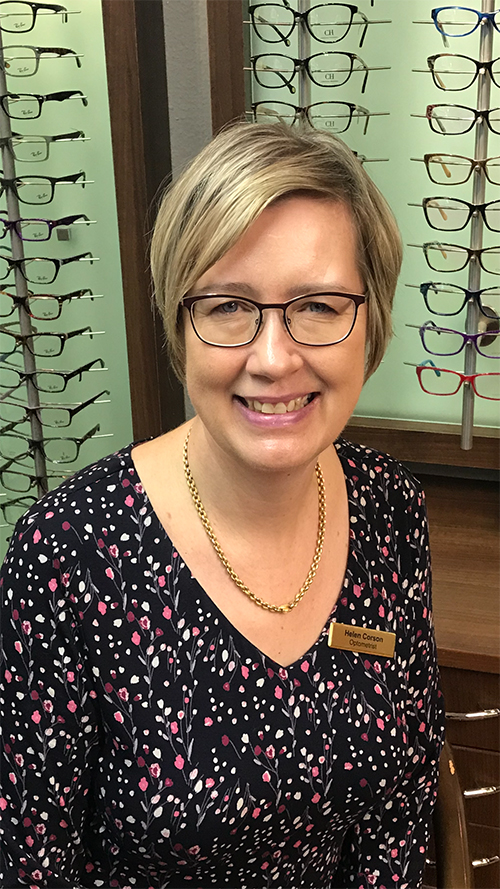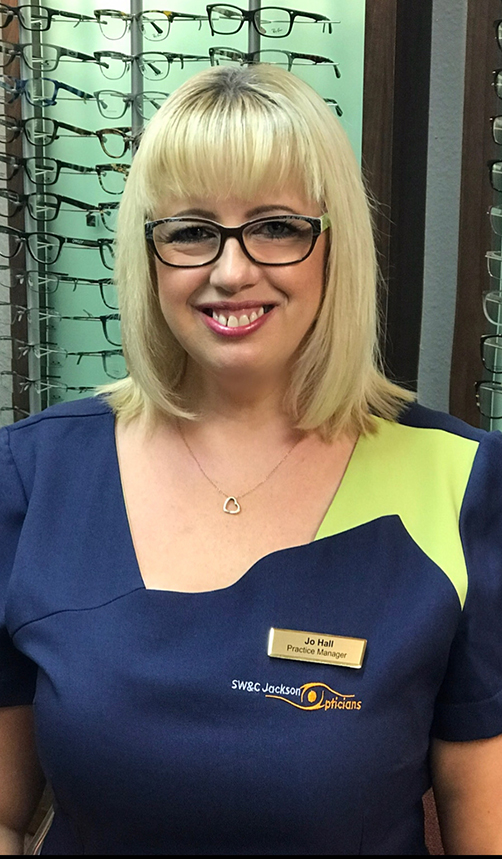 Practice Manager – Joanne Hall
Practice Manager Jo has worked for SW & C Jackson for nearly 27 years. She has a wealth of experience and knowledge that help her find the right frame to compliment patients faces and prescriptions. Jo lives locally with her partner and has two children. Jo loves dancing, enjoys going to the gym and spending time with her family.
Dispensing assistant and Clinical Service Coordinator – Joanne Hamilton-Fey
Jo has become part of the furniture at Jackson's Opticians and has provided an invaluable service over the almost three decades.
Jo likes the close personal nature of working in the practice both with her colleagues and patients alike.
Jo lives in Nantwich with her husband son, black labrador Emmet and a goldfish called Fish. Jo enjoys walking, cycling and sailing her GP dinghy.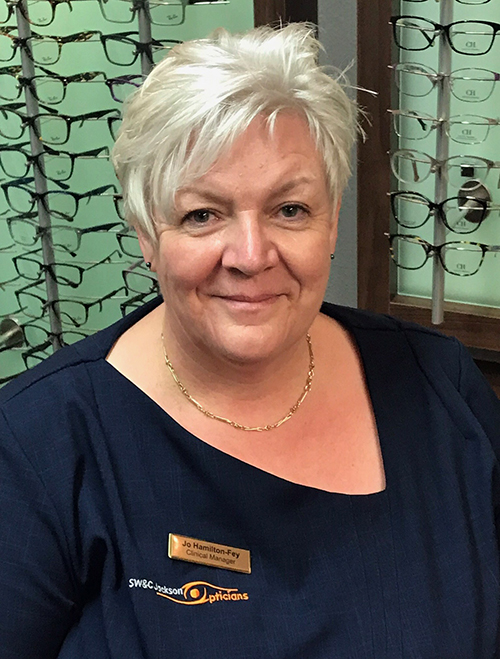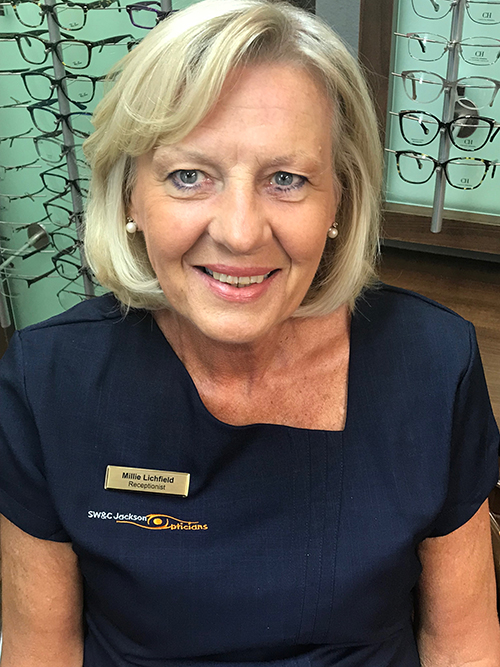 Practice Receptionist – Millie Lichfield
Having retired from working as a