Our Team
Helen Corson BSc Hons MCOptom
Principle Optometrist & Optometric Advisor to NHS Wales Shared Service Partnership.
I started to need glasses when I was 9 years old. Back then, there was little frame choice, particularly for children. I knew I needed glasses to see clearly, but was not too fond of wearing them! I had black NHS frames which looked very ugly and I don't think I ever smiled when I wore them.
As I got older, I could never find frames that fitted comfortably – red marks on my nose was a permanent thing and having a large prescription, the frame choice was really limited – they all seemed so DULL. I wanted something that fitted comfortably and showed my personality.
When I bought Jackson, I vowed to make it the place to go for quality eyecare, but also the place for eyewear that is both stylish, comfortable and anything but DULL.
If you hate glasses or have never been able to find the perfect pair, Jacksons Opticians is the place for you. We source frames from all over the world to find quality niche eyewear that will fit you perfectly and make you feel fantastic. We are glasses wearers ourselves so we feel your pain!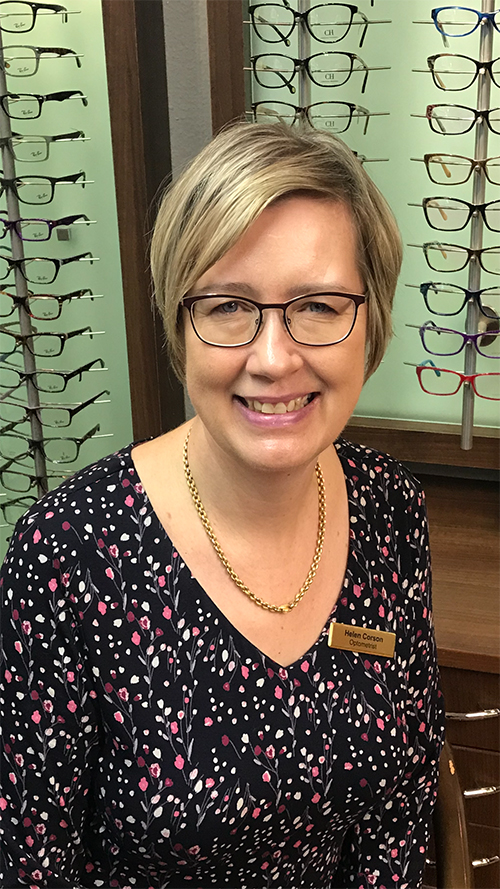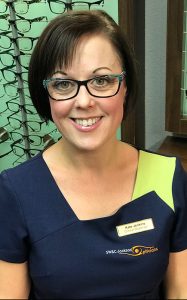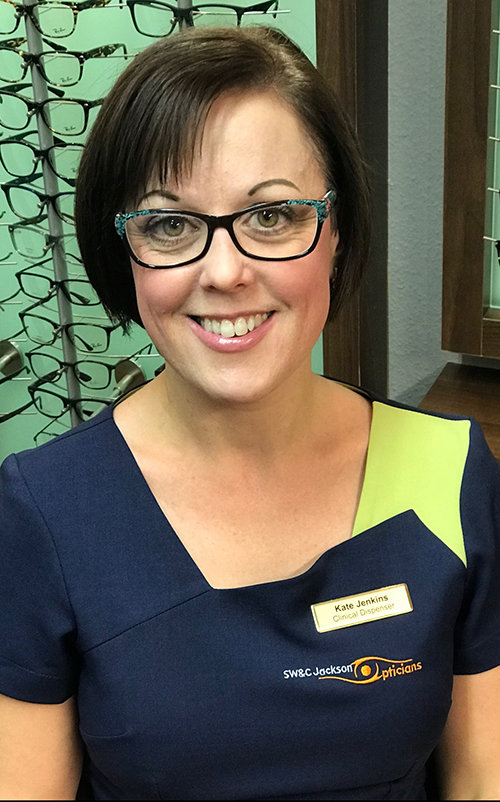 Kate Jenkins
Practice Manager and Clinical Dispenser
I have worked in Optometry for many years in practices both big and small. I joined Jacksons when I relocated the Cheshire from Cumbria. I have a degree in Business Management which has been useful to keep the practice on a even keel.
I am really big on attention to detail. I enjoy a challenge and will leave no stone unturned to find you the perfect frame. Being quite petite, I understand how frustrating it can be when everything is too big and nothing fits properly. We carry hundreds in stock and some of the collections we work with offer bespoke ordering to make sure we get things exactly right. I promise we will find just the right frame for you!
My favourite brand is Lindberg. I am in awe of how a frame can be so strong but weigh so little. I find them very comfortable and love the way it is possible to tweek sizing and colour in order to deliver just what my patients want.
When I am not in work I like to be busy. When I came to Nantwich I bought a house which neede a lot of work and that has kept me out of mischief as I gradually get it looking the way I want it. I love my garden and I am a pretty good baker too!
Joanne Hamilton-Fey
Frames Stylist and Clinical Coordinator
Having worked at Jacksons for over 30 years, I am part of the furniture. I love helping patients discover the best frames lenses combination to suit their individual needs. If a frame is not a perfect fit, there is no point in having it – you will always be disappointed in the end by the lack of comfort.
I didn't need glasses until I was in my late 40's. It was a shock when it happened, but I think it helped me understand what my patients go through when they have glasses for the first time.
My personal brand favourites are Ronit Furst and l.a. Eyeworks. As I only wear my glasses for close up work, I enjoy having frames that are bold in both design and colour. They help me to show a little bit of my personality and it makes them easier to find when I put them down!
I enjoy my role – I must do to have stayed so long! I enjoy the personal nature of working with both team members and patients alike. In my role as Clinical Coordinator, I enjoy embedding patients discharged from the hospital within the care structure of the practice to make sure we continue to monitor they eye health appropriately.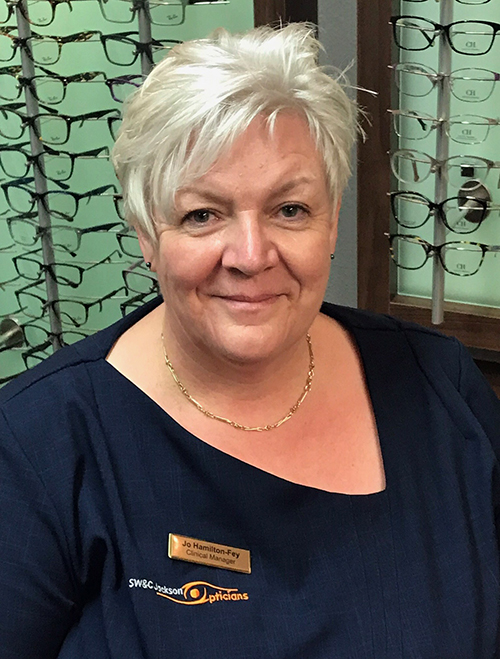 Mr Andrew Price FBDO(Hons) CL
Contact Lens Practitoner & Dry Eye consultant
I am contact lens practitioner and dry eye consultant at Jacksons. In addition to my in-practice clinical role, I design, and am a principal investigator in clinical trials. I have sat on the executive board of more than one eye care organisation, act as a Professional Services Consultant, educator, lecturer and author.
Recently, The Body Doctor Company appointed me as its Head of Professional Services.
I have worked in the field of contact lenses, ophthalmology, laser eye clinics, dry eye and the ocular surface for 30+ years.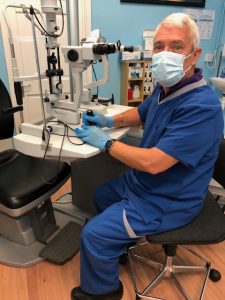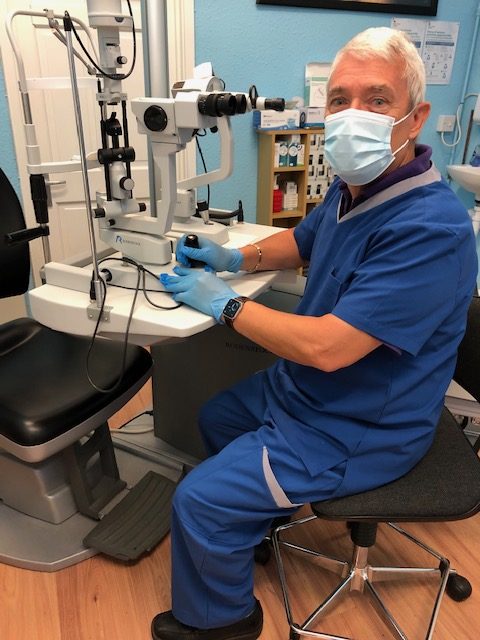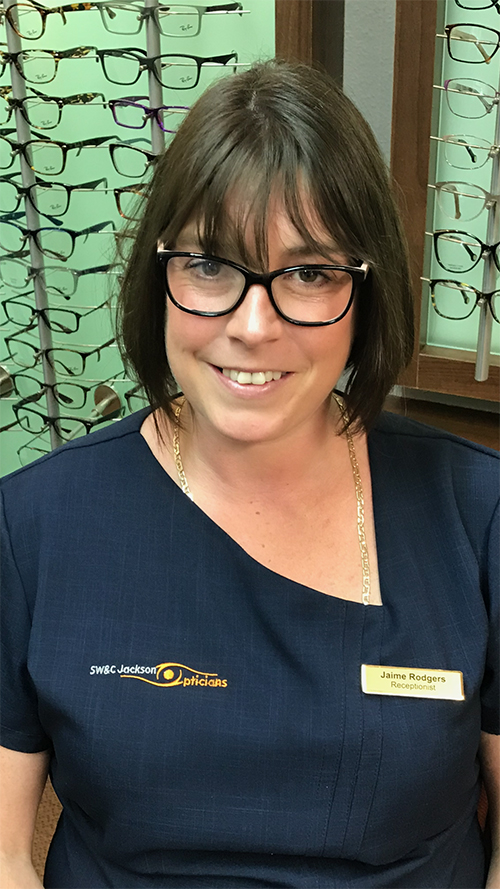 Jaime Rodgers
Senior Frames Stylist
I love fashion and I am passionate about stylish eyewear – I have been known to dream about it! I love the challenge of  finding the right frame for the right face, and enjoy helping my patients come out of their shell and experiment with something just a little bit bolder! Like Jo, I have only come to need glasses in my 40's so I understand from personal experience how frustrating it can be when ones vision deteriorates and glasses are required.
I am the frames buyer at Jacksons. I have put together a collection of the finest frames from around the world that allows expression of individuality and ensures comfort of fit. My favourite collection is Tom Davies. Find the style you like but want it in a different colour? No Problem! You can have any frame in any colour and we can also vary the eyesize, bridge fit and side length to suit!
When not at Jacksons I am mum to three boys. I like cooking and have been told by the team that I must be mad to go home from work and make lasagne from first principles! I love working in my garden. I like to grow both flowers and veg alike but if I had to choose a favourite plant it would have to be my lilies.
Book an appointment.
Book an appointment online here.
Contact us by email