Welcome back! We are doing things a little differently now.
We are delighted to be back in practice and look forward to seeing you again.
Our top priority is the safety of our patients and our team so you will see that we have changed the way things are done in order to take the very best care of you.
Please take time to read the following before you come.
Always call before you visit
Please telephone to make an appointment for any reason, if you arrive without prior booking, we may not be able to see you.
We will also have to ask you a few questions about your visit.
Online / Telephone Consultations
We may invite you to a longer telephone or Zoom consultation before your appointment to enable us to clearly determine your needs and reduce the amount of time that you have to spend in the practice.
Our door will be locked when you arrive
Rest assured we will be open, but we will have to limit the number of people in the practice at any one time.
When you arrive we will ask you to…
Use the hand sanitiser as you enter our practice
Answer a few general health questions to confirm you have not been in contact with anyone with symptoms
Come on your own where possible. We have to keep the number of people in the building to an absolute minimum
Come to us before you do any shopping. Lots of bags will make our work to keep the practice clean and safe a lot harder
Wear a mask for the duration of your visit, if you don't have one of your own, we will be happy to provide one for a nominal fee. Unfortunately, we have to purchase these as they are not provided by any authority.
Maintain a safe separation from everyone wherever possible. We will limit the number of people in the practice to ensure that you are never crowded. Whenever possible please remember to maintain a 2-metre separation from everyone as you move from one space to another.
Pay with a card. We are trying to avoid cash handling where possible
In the Consulting Room
Please sanitise your hands again on entering the consulting room
As part of your examination we will have to be quite close for short periods of time, and we will minimise the risks inherent in this by keeping periods of closer contact to absolute minimum
We will be using new technology to examine the inside of your eyes in minute detail, so we won't have to get as close to you as we used to.
Many of you will be delighted to know that we will not be using the "puff of air" test to check your eye pressure. We have a new method which does not cause aerosol droplets to be produced
When choosing frames
We will invite you to sanitise your hands before trying on frames
We will sit down and talk about the sort of frames you would like before bringing you some to try. We will have a cough guard screen between us
Once you have tried a frame we will put it aside to be sanitised
each frame will be sanitised after it has been tried on before going back on display
We will fit your frames on the day so they can be posted out to you when ready.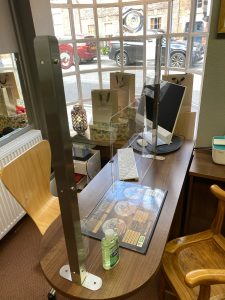 We have installed a screen to sit between staff and patients when choosing glasses.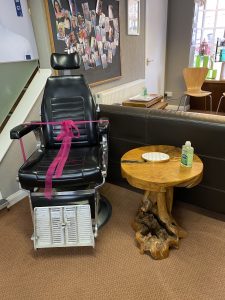 We have swapped fabric covered chairs for wooden ones. Where we cannot adequately sanitise furniture, we have put it out of use.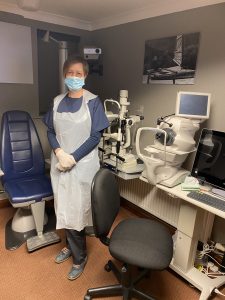 Scrubs and PPE for staff is now the order of the day.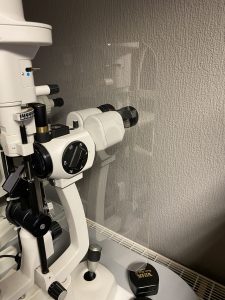 We have fitted an oversize cough guard on the slit lamp for added safety.