How we work
Our bespoke eye examinations last between 30 and 45 minutes.
Please call us to arrange an appointment or use our online booking service us to make an appointment. If you require an additional service such as contact lenses, diabetic screening or cataract post operative assessment, please tell us when you book your appointment so we can give you sufficient time.
Our Eyewear Styling Consultation is a guided journey
through the process of choosing new glasses. It is designed to remove the frustrations and hassles associated with purchasing eyewear that many of you may already have experienced elsewhere.
It will save you time; it will remove the seemingly haphazard approach to choosing new glasses that most opticians seem to provide; it will make the whole buying experience a lot more enjoyable and rewarding; and you'll get expert advice and recommendations tailored specifically to you and your requirements. Please contact us to reserve an appointment for an eyewear styling consultation to discuss your new lenses. We'll set aside about 45 minutes so you are not rushed.
Choosing glasses can be difficult and frustrating but we do this every day.
We have done for years – we know what we're doing when it comes to selecting eyewear. We have a styling process that works. It allows the chance for us to help you explore the right styles for you taking account of your lifestyle, visual demands and prescription
This is a nicer way to work!
We will take the time to answer all your questions and get to know your requirements with an enjoyable cup of tea in the process. You'll see a real, sincere person who is knowledgeable, helpful and passionate about what they do.
To apply for your FREE EYEWEAR STYLING CONSULTATION, please complete the form below.
Request a Free Eyewear Styling Consultation
It's easy to take the next step. Call us on 01270 625 889 to make an appointment for an eye examination or book online.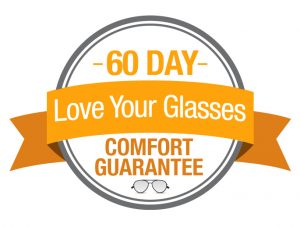 Jacksons Opticians we give our customers a 60 day "Love Your Glasses" Comfort Guarantee
If, for any reason, you find that the fit of your frame is uncomfortable or if you have any discomfort with the lenses within 60 days of collecting your new glasses, you can choose an alternative frame and/or lenses that will be more comfortable for you. All at no charge.
Proud to Support