About Jacksons Opticians
Are we the right Opticians for you?
Do you find the process of choosing glasses stressful?
Do you struggle to find glasses that fit, feel comfortable?
Are you looking for glasses that reflect your personality?
At Jacksons we do things a little differently. We have a proven process which starts with you talking and us listening. Next we explore eyewear possiblities with you, but we bring the frames to you so you do not become bewildered by the hundreds of potential options. Think of us as like having your own personal shopper.
"God gave us two ears and one mouth for a reason"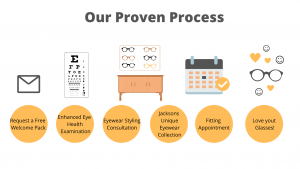 Frequently asked questions
How much are glasses at Jacksons?
The answer depends on your prescription and the type of lenses and frames you require.  The good news is, we have plenty of options and help patients every week who have previously been to other practices. They may (but not always) end up spending a little bit more to get something that they really like and that ticks all their boxes.
Our handmade frame prices start at £199.00. Our most expensive frames are currently about £600. Bespoke frames where we order to fit your facial measurements starts at £350.00. Orders for these take around 8 weeks. Most people find there is plenty of choice between £300.00 and £450.00 bracket.
We work with the highest quality lenses so that our patients benefit from the best possible vision. Our premium single vision lenses start at £149.00 a pair and go up to £349.00 for Ultra-Thin lenses for high prescriptions. For premium varifocal lenses you can expect to spend £439.00 to £699.00, depending on your prescription requirements.
Our team will consult with you about your visual requirements, how you use your eyes in everyday life and give you several options. Lens technology keeps advancing and improving and it is just a case of deciding what is best for you in terms of quality and grade of lens versus how much you want to spend on your eyewear.
How much is an eye examination at Jacksons?
An Advanced Eye Health Examination is £80.00 which includes Optical Coherence Tomography (OCT) and Optomap ultra widefield retinal imaging. If you qualify for an NHS funded sight test you can upgrade to the advanced examination for £55.00
What ranges of frames do you stock?
We stock frames to suit real people. We select collections to suit large faces, small faces, bigger noses, smaller noses, colourful personalities through to those who want their glasses to blend into the background.
We stock a large range of handmade niche eyewear – eyewear that you will not find in most high street practices, certainly not the chain stores. It is distinctive, interesting and fun. It helps you stand out in a crowd and lets you express your personality through your eyewear. Eyewear like this is manufactured in smaller quantities, and this is reflected in the price.
I don't like choosing and discussing price in front of other people.Can you help?
That's no problem. many people find it embarrassing to try on frames and discuss price options in front of other people. We are very happy to sit with you in our private Eyewear Gallery and bring the eyewear to you.
Will there be high pressure selling?
Entering a new environment for the first time can be very intimidating, especially if you think you are going to be sold to. We do not employ salespeople, We employ eyewear advisors. There role is to offer advice and answer your questions and give honest opinions. You are never under any pressure or obligation to buy anything.
I always struggle to find glasses to fit me. Can you help?
We hold an extensive stock, and we buy frames thinking about real people so hopefully whatever your shape and size, we should have plenty to show you. We are suppliers of Tom Davies and Lindberg frames which are customisable in terms of sizing and colour.
I always struggle to know what will look good on me! How will you help me?
Choosing glasses can be difficult and frustrating but we do this every day. We have done for years – we know what we're doing when it comes to selecting eyewear. We have a styling process that works. It allows the chance for us to help you explore the right styles for you taking account of your lifestyle, visual demands and prescription.
It's easy to take the next step. Call us on 01270 625 889 to make an appointment for an eye examination or book online.
Request a Free Eyewear Styling Consultation
Proud to Support