About Jacksons Opticians
Are we the right Opticians for you?
Do you find the process of choosing glasses stressful?
Do you struggle to find glasses that fit, feel comfortable and look good?
Have you been disappointed by opticians in the past?
Are you looking for the best in clinical care?
SW & C Jackson is an independent optometry practice based in Nantwich which has been established since 1888. We believe our patients are the lifeblood of the practice so we  have invested in the most up to date equipment to ensure you get the best clinical care.
At Jacksons we do things a little differently. We have a proven process which starts with you talking and us listening. Next we explore eyewear possiblities with you, but we bring the frames to you so you do not become bewildered by the hudreds of potential options.
"God gave us two ears and one mouth for a reason"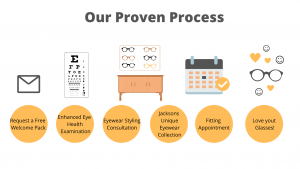 It's easy to take the next step. Call us on 01270 625 889 to make an appointment for an eye examination or book online.
Request a Free Eyewear Styling Consultation
Proud to Support